So we often get stuck in the centre or the beach suburb of a City and there's nothing wrong with that, it makes things easy to get to and it's just nice to be by the beach-we're on holiday right?
However, something we often hear is travellers wanting to see places out of the City centre, cool suburbs that are sparse on tourists and that locals like to frequent, and that's why we've picked the YHA Metro hostel in North Melbourne as our favourite hostel.
North Melbourne is a quaint, real life suburb that's home to an AFL team (North Melbourne Kangaroos). It's littered with cafes from every corner of the globe and is just a stones throw (7 minute walk!) from Queen Victoria Market. It's everything you want in terms of being well located but sampling authentic, every day life in a new country.
The hostel itself is a YHA, the largest hostel operation in the world and YHA Australia specifically are upping their game of late.  Under recent new management, they have introduced daily events ranging from pool competitions to yoga to bar crawls; they're covering it all.
The dorms are 4 and 8 share and impeccably clean, with same sex bathrooms just down the hall.  If you're on a budget but don't fancy cooking then they do have an in-house, budget (bacon and egg for $6.50!!) café just downstairs.
After exploring throughout the day then we recommend you head up the mural- emblazoned stairs to the stunning rooftop terrace for the hostel's free BBQ held every Sunday afternoon!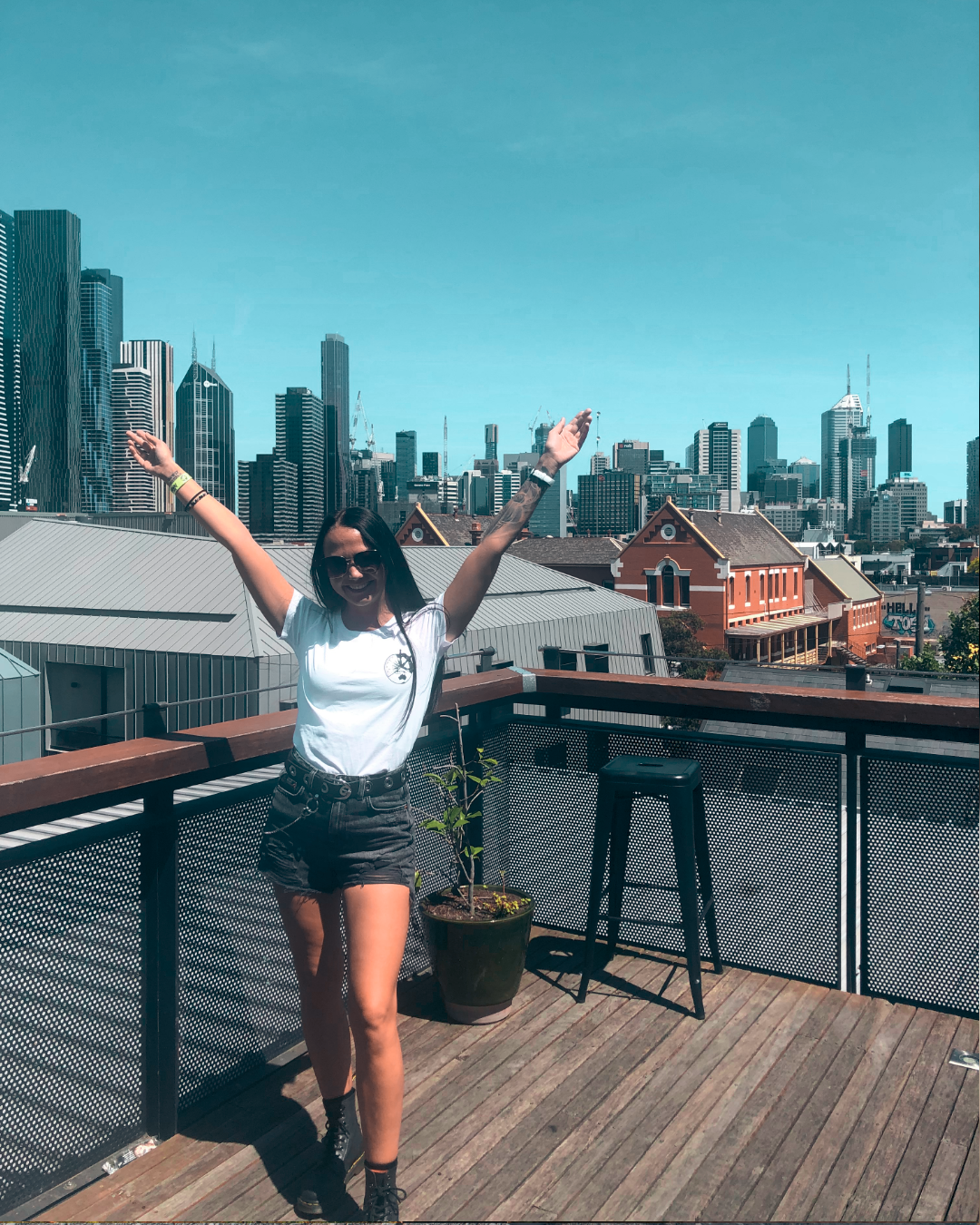 Space Hotel is not your average hostel-hence it being called a hotel. Just like the Metro property, we like its location. It's in the City but it's not totally central and is at the end of the City that people don't always venture to- but absolutely should.
Go right and Carlton, Mebourne's 'Little Italy', is 2 minutes away, over the road and you're in the old Melbourne Gaol and you're also just 5-10 minutes away from Queen Victoria Market.
What's so special about Space then? Well you've probably gathered that we're fans of rooftops in hostels; we can't help it ok? We live in a city of 200 rooftop bars and we actually find a bar on the ground level a bit strange!
Space actually has both, an impressive rooftop space (including hot tub!) and a bar on ground level, and Blue Moon is a good bar too.
Other top features of this hostel are: it's cyber area, BBQ space, cinema room and wait for it… gym!
Space is a new age hostel, a property that screams modern and when you think it can't get any better they help you make the decision between City and Beach hostel by being situated in the City and offering a free daily shuttle to the famous St Kilda beach – conundrum solved.
I said YHA were upping their game and that means their other Melbourne property gets a mention.
We love this as it's a modern property encased in an exquisite old building. The entrance is warming but we're a fan of it's dark, moody, yet endearing corridor to the common area completed with exposed brickwork. Once there you can head to the open-plan kitchen and watch a standard backpacker table tennis tournament while you make your pasta.
This property is also under a completely new management team that are committed to making everyone's Melbourne stay as perfect as possible.
Also, did I mention it has a rooftop with a big communal BBQ area? I didn't? Ok, well it does.
United is modern, clean and has decent common areas including a quiet room downstairs, a movie room upstairs and a big kitchen with a refreshingly spacious dining room.
But it's undoubtedly the location that propels this hostel on to this list. If you're the kind of traveller that insists on being in the action then United is second to none and this is simply the hostel for you.
You're a hop, skip and jump from every tourist's favourite food spot, Degraves Street and Melbourne's centrepiece, Federation Square.
If you want to leave the City then that's fine too as you have Flinders St Station directly opposite and a tram stop right outside.
This award winning hostel (no rooftop this time) underwent a renovation 4 years ago and it's quirky features can be seen throughout the hostel-no more so than in the Lost and Found, a basement bar setting that would be right at home in the Melbourne bar scene, never mind just in the bottom of a backpackers.
One thing this list lacks is a hostel in St Kilda, so who are we to disappoint. We couldn't possibly compile this without featuring something from our favourite beach suburb.
With properties in Sydney and Brisbane, this is the latest instalment of backpacker hostels from the brothers behind the Summerhouse brand.
Transforming spaces with potential and exposing the charm of old buildings is a consistent feature of their properties; their revamp of both the downstairs bar and the former Hotel Barkly's famous rooftop terrace ensures this is no exception.
The hostel has dorms 4, 6 and 8 bed dorms all with lockers, private en-suite bathrooms and all at a competitive rate. Their private double/twin rooms are all beautifully renovated hotel rooms and are kept to an impeccable standard.
With a laundry, travel desk, newly kitted out TV room, free WiFi throughout, plenty of common spaces and special deals at the bar, this place has everything a budget hostel should have.